When I was home in Arkansas for the holidays, my boyfriend was with me too for part of the time. We spent time with his family and mine. The night he was with my family, my fam wanted to cook something fabulous. (As if everything they cook isn't fabulous.) My mom settled on Gumbo Ya Ya. This recipe comes from Mr. B's Bistro, which is her favorite restaurant in New Orleans. Eating this gumbo made me long for a trip down there. It has been far too long since I have been to N'Awlins, or The Big Easy. I may have to try and swing it this year.
Anyways, this gumbo was amazing. Absolutely. And, it made a ton. You could feed an army with the amount of gumbo this produced. Or, you could feed a large dinner party and then freeze the leftovers and be able to throw another dinner party with it. Seriously.
Also, this is not a recipe you would want to make on your own. This is for cooking with a crowd of people in your kitchen. The reason? The roux. To properly make this recipe, you have to make an epic roux. It is a pound of butter and three cups of flour stirred constantly for an hour over low heat. And I mean constantly. Everyone had to take a turn at the stove. One tip I learned the hard way, be gentle with the stirring. I would get impatient or distracted and end up with splashes of hot roux on my hand, which burned rather uncomfortably. I wouldn't recommend that part. Ouch.
But, the good part to cooking with a crowd, other than your arm not falling off from the constant stirring, is that everyone else can prep all of the ingredients while you are stirring away! Everything was ready to toss in by the time the roux was done.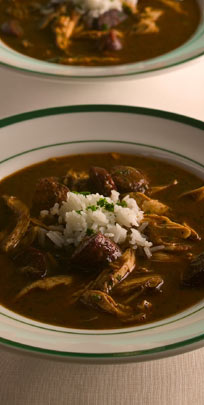 Here is the recipe along with some tips from the recipe creator.
Gumbo Ya Ya
Making a roux is tricky business. Some pointers to keep in mind: cook your roux over moderately low heat because too high heat will cause the roux to speckle and if that happens you'll have to throw it away and start over; add the flour gradually to the butter or oil; you must stir the roux constantly with a wooden spoon, your arm will get a workout; and never, but never leave your roux unattended.
1 lb. (4 sticks) unsalted butter
3 cups all-purpose flour
2 red bell peppers, in medium dice
2 green bell peppers, in medium dice
2 medium onions, in medium dice
2 celery stalks, in medium dice
1 1/4 gallon (20 cups) chicken stock
2 tablespoons Creole seasoning
1 teaspoon ground black pepper
1 teaspoon dried hot red pepper flakes
1 teaspoon chili powder
1 teaspoon dried thyme
1 tablespoon chopped garlic
2 bay leaves
2 tablespoons kosher salt
1 lb. andouille sausage, cut into 1/4 inch-thick slices
3 1/2 lb. chicken, roasted and boned
hot sauce to taste
boiled rice as accompaniment
In a 12-quart stockpot melt butter over moderately low heat. Gradually add a third of the flour, stirring constantly with a wooden spoon, and cook, stirring constantly, 30 seconds. Add a third more flour and stir constantly 30 seconds. Add remaining third of flour and stir constantly 30 seconds. Continue to cook roux, stirring constantly, until it is the color of dark mahogany, about 45 minutes to 1 hour.
Add bell peppers and stir constantly 30 seconds. Add onions and celery and stir constantly 30 seconds. Add the stock to roux, stirring constantly to prevent lumps. Add all remaining ingredients except chicken, rice, and hot sauce and bring to a boil. Simmer gumbo, uncovered, 45 minutes, skimming off any fat and stirring occasionally. Add chicken and simmer 15 minutes. Adjust seasoning with hot sauce. Serve over rice.
Yield: about 6 quarts
Enjoy!