I'm not one that is big on resolutions, but I have decided it would be helpful to make a list of goals for this year. A friend of mine and I are describing this year as "The year to make stuff happen". So, here are some things that are on my list for the year.
1. Travel. Last year I made many trips, but most of them were to AR for one holiday, project, reason or another. I'm taking real vacations this year. More specifically I want to go to a beach, go to another country, and go to New Orleans, or some other fabulous southern city. I want to go with my man, with my girls, and with my family. Not all at the same time. I think I can make these things happen.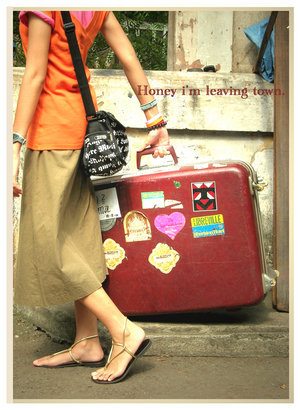 2. It is time to get my ears pierced. Yes, I know it is kinda weird for a 27 year old to not have her ears pierced. It is something that never happened when I was a kid and I never got around to it. But, it seems that I'm surrounded by earrings lately. People keep trying to give them to me and I have to say, no thanks. The time has come.
3. Have the best summer ever. Last summer was full of cabins, crab boils, camping, float trips, sailboats, and more cool events with friends and it was wonderful. This year, bigger and better.
4. I would like to make at least one thing out of every cookbook I own. I own so many cookbooks and I rarely use many of them. I need to break into them more.
5. Continue blogging! I'm 75 blogs in now and still rocking along. I'm also going to take better and more pictures of what I'm doing. It is so easy to take pictures with my phone, but I need to use a real camera.
6. More random experiences. Last year I went to a renaissance fair. This year, I am thinking fantasy conventions, concerts, and maybe even a steampunk event.
7. Get my shit together and put on an art show somewhere. I have a lot of pieces now. Some of which, I think are at a level where I want to share them and sell them. I need to paint more. I need to buy frames. If nothing else, I need to hang some of my own work in my own house.
8. Get in touch with old friends. I really suck at this. But, it is a good year to make it happen. As an addendum to this, I would also like to write some letters this year. I love the idea of sending thank you notes to people, or just letters letting them know what I'm up to. In the age of facebook, it seems old fashioned, and that is probably why I like it.
9. Hit the gym more. I've been pretty good so far this year about going to gym classes. I want to keep that going.
10. Eat more real food. By that I mean unprocessed, organic things. It means cooking more and going to the farmers markets. I go through phases where I'm really good at doing this. I also go through phases where I order lots of pizzas. I want to do more of the first kind of phase.
11. It's time to restart my book club. I ran it for 2 years now and I after the last phase, I never started a next round. We've been off for about 6 months now, and it is time I get back on the ball. But, I've read some great things in that time off, so I'm looking forward to sharing them with people again.
12. Explore new crafts. Specifically, I'm going to do some screen printing this year and also learn how to felt hats. It's totally happening. Oh, and I'm going to make myself some summer dresses. I love summer dresses.
13. Be more musical. I've recently decided that because I rock so hard at the drums on Rock Band, that I should learn to play them in real life. I've got rhythm. I've got a drum set in the basement. How hard can it be? Also, last year I bought a book on learning to play the piano. My man plays the piano. It seems silly not to learn. And finally in this category, I want to do karaoke this year. It's going to be awesome.
14. Figure out what I want to be when I grow up. Ouch. This one is hard. I keep waiting for my epiphany to come along, a voice from the sky to give me a direction, but perhaps this year I need to try out some new things and see if any inspire.
All of these seem like perfectly reasonable goals, except maybe the last one. But, I'm ready to tackle them this year. I think listing them out like this will be helpful. Helpful for me to remember and helpful in that my friends can hound me about them too.
Set some goals for yourself this year and let me know what they are!